Welcome to Potato India
YCP Potato Traders (Yugalkishore Chaturbhuj Patidar) is the leading trader of Potato, Onion and Garlic of India. We are in the field of Potato trading since 1955. We are also engaged in production of Onion, Garlic etc.
We supply Best quality Potato seeds for all major varieties, Supply Potato to chips industry, Supply Table Potato (for consumption) etc. Storage facility for Seed and chips potato is available at our Cold Storage. To provide quality material is our motto.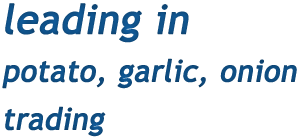 Potato

We brings you Five fantastic varieties of potatoes, each one with its own distinct appearance, flavour and texture.

Garlic

Quality Seed Garlic Grown in the Finger Lakes Region of Indore to complete your needs and satisfaction.